Daffodil Storage Port Orchard Boat & RV
Office Hours
Mon - Sat

9:30am - 6:00pm

Sun

11:00am - 4:00pm
Need help choosing? Try our Size Guide.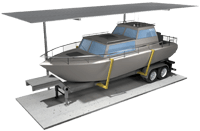 13' x 35'
Hurry, only 1 left!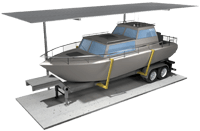 13' x 40'
Hurry, only 2 left!
Didn't find your unit?

Try these nearby locations
Port Orchard, WA, Boat & RV Storage
The beautiful Pacific Northwest is the perfect place for outdoor enthusiasts of all kinds, with a variety of lush environments to explore. From the towering peaks of Mount Rainier National Park and the evergreen trees of the Olympic National Forest to the salty waters of the Puget Sound, there are plenty of ways to get away from the hustle and bustle of everyday life and into nature.
With so many options for outdoor excursions nearby, it's no surprise that residents of Port Orchard, WA, would own an RV or boat so they could further explore the area they live in. If you've been struggling to find a place to keep these vehicles at home, don't worry — Daffodil Storage has you covered! Located on Lumsden Road near Highway 16, our boat and RV storage facility has plenty of space for your favorite toy. 
Port Orchard Storage Features and Amenities
Daffodil Storage boat and RV storage in Port Orchard is designed to provide residents of the Annapolis, Fernwood, Sunnyslope, Manchester, Parkwood, and surrounding areas with a convenient and affordable option when storing their recreational vehicle. With a large selection of 35', 40', and 45' outdoor parking options, you'll have no problem finding a spot that fits your needs.
Our facility is fully-fenced and well-lit so you can see exactly where you're going when it's time to pull in and park. With month-to-month leasing you'll have the flexibility to rent your space for exactly the amount of time you need.
Boat & RV Storage in Port Orchard, WA
While providing a great way to experience the great outdoors, finding enough room to store your boat or RV at home can be a real hassle. If you're ready to take your garage, driveway, or street parking back, or your neighborhood HOA requires you to leave your oversized vehicle someplace else, Daffodil Storage offers a great option for those in the Port Orchard area.
Whether you are a fisherman who frequents the Sinclair Inlet or Puget Sound, or you enjoy camping trips in the forests near Olympic National Park, our facility on Lumsden Road is convenient to get to on your way in or out of town. You'll never have to go out of your way to access your recreational vehicle when you need it!
Find Your Port Orchard, WA, Boat & RV Storage Today
When you're ready to reserve a parking spot for your boat or RV, give us a call or utilize our contact free rental system online. Our friendly team of storage professionals are always willing to help answer questions you may have or provide you with storage tips on how to properly store your recreational vehicle. And if you're looking for a self storage unit near you for the rest of your belongings, explore our main location page!
Resources
Not sure what size you need? Try our Size Guide.
What Our Customers Are Saying
---
Morgan and Josie are so amazing. I feel like we've troubled them a lot. On our third storage unit here and worried we were bothering them a lot with all our q... Read More
Morgan and Josie are so amazing. I feel like we've troubled them a lot. On our third storage unit here and worried we were bothering them a lot with all our questions and movers driving in and out. But they were so patient with us. Let us use their bathrooms and gave us water. The facilities look well maintained as well, the temperature is regulated for the indoor ones, so I don't worry about our items inside. Fast and easy registering process too. Highly recommended.
I JUST GOT MY STORAGE UNIT YESTERDAY AND IT WAS SO EASY AND QUICK I WOULD DEFINITELY RECOMMEND THIS PLACE .
Spring Blanck
 5 months ago
Great people, friendly, respectful, helpful Reasonable prices, clean units
Kathy Ann Ostler
 6 months ago
Very professional and courteous. The entire facility is clean. Fees snd policies are well explained.
Janice Talaroc
 8 months ago
Words can't say how helpful and caring this place is..The Managers awesome..keep up good wrk.
very impressed with customer service and the facility.
Susan Guidry
 9 months ago
Just started moving in. Seamless check-in process. Clean and cool inside our unit! Thanks!