Retail Clothing Inventory Storage Guide
As the year goes on and the pages on the calendar turn, retailers, thrift shops, and small businesses alike face the constant challenge of managing their clothing inventory. Each season brings a new wave of fashion trends and customer demands, requiring a dynamic and flexible storage solution.
The task of keeping track of everything can be daunting, particularly when space is at a premium. Managing a large volume of inventory can feel challenging, but it's crucial for successful operations. Thankfully, Daffodil Storage is here to help make it easy! This comprehensive guide will provide practical tips and insights to help you organize your things and find the right retail storage situation for your business.
Whether you're a large retail store dealing with an extensive range of products or a small business owner juggling an online shop side hustle, renting self storage can help you in many ways. We'll go over ways to maximize your workspace, keep your inventory organized, and ensure that your business stays ahead of the seasonal curve. This will allow you to embrace the changing seasons with confidence, knowing your inventory is well-managed and your product storage solutions are under control.
Examine Your Inventory
Before you begin looking for ways to optimize your clothing inventory storage, you need to assess your situation. Go through all the inventory you have and get a clear picture of how much product you currently have. Categorize items by season and type, with things like t-shirts and dresses on one side and things like winter coats and hats on the other. This will help you distinguish what areas need the most attention and help you come up with a game plan.
Next, create an inventory list detailing each item's characteristics and storage location. This simplifies your role in rotating clothes and prevents loss or misplacement, as the last thing you want is to lose track of where your things are. By following this approach, your inventory management becomes efficient and easy to understand.
Choose the Right Unit Size
After assessing your inventory, you'll have a clear idea of how much stuff you need to store. This knowledge is key in selecting the right self storage unit size, ensuring your items fit well without wasting space or risking damage. Consider whether you want to hang your clothes or store them in boxes, as this will also impact how much clothing inventory storage space you need.
Daffodil Storage offers business storage solutions in many shapes and sizes so that you can find the right unit for you. Or if you're looking for a more convenient way of storing, check out our Smart units, located at our Puyallup and Tacoma locations. Access to your Smart unit can be shared remotely so employees of the store can also access the unit without having to meet up to hand out keys. Check out our unit size guide to calculate how much space you'll need for your clothes, boxes, and any other items you intend to store with us.
Consider Heated Storage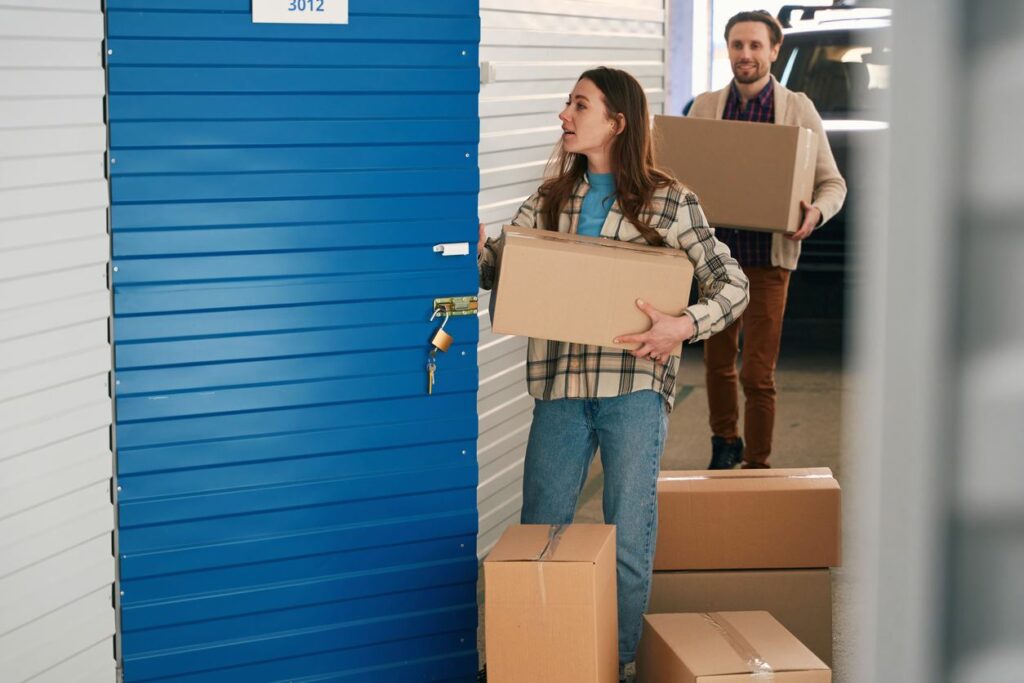 While the pieces you're storing are perfect to wear out in the winter or under the summer sun, the weather can cause some serious damage to your clothes when not stored properly. Leaving your things stuffed into boxes or sitting folded in extreme heat or extreme cold can cause fading, discoloration, and more long-term issues like mold, dust, and mildew. This can be a devastating blow to your business, as nobody wants to receive wrinkly, smelly clothes in the mail.
The best way to protect your clothes from the effects of extreme elements is to invest in heated storage with Daffodil Storage. These spaces are kept above a specific temperature to help prevent all sorts of damage and offer a layer of protection from direct sunlight. This can save you considerable money in repair costs and lost inventory – not to mention the reputation hit from unhappy customers.
Sort, Label, and Organize
After you've found the right storage unit for your needs, the next step is organizing your items. You should pack your items in a smart, systematic way that allows for easy identification and sorting later. Start by labeling each box according to the season of the clothes it contains, potentially even using different color markers or stickers. This will help you quickly identify which boxes to access as the seasons change and pull out things you need.
In addition to seasonal labels, it's also beneficial to label what's inside each box. This could be a general description like "summer dresses," "jean jackets," or "winter sweaters," or you can be more specific with itemized descriptions if you prefer. Finally, include the date the items were put into storage. This not only helps you remember when items were last accessed, but also helps you maintain an efficient clothing inventory storage rotation. With this method, you'll always know exactly what's in each box and when it was last opened.
Rotate Your Inventory
As the seasons change, actively swap out things you likely won't need to access. This means bringing out spring and summer clothing as it gets warm and switching in coats and jackets as it gets chilly. When you keep your things with Daffodil Storage, you can easily access your clothes and switch them out as needed. Many of our facilities offer drive-up storage along with moving carts and supplies available as needed. Check out our storage tips page and list of frequently asked questions to learn more ways self storage can benefit your clothing store or business.
Rent Seasonal Clothing Inventory Storage from Daffodil Storage
With the help of Daffodil Storage, you can better organize your seasonal clothing inventory and establish an efficient rotation system to manage your product. Understanding how to cycle things in and out as the weather changes will allow you to get more out of your workspace and ensure long-term financial success. Whether you're a big retail store or a solo operation with a side hustle, renting self storage from Daffodil Storage can give you the space you need to thrive. Find the nearest Daffodil Storage facility to you to get started today!
More From Daffodil Storage