Get Outdoorsy This Summer With the Help of Self Storage
When living in Washington during the summer, it's almost impossible to find someone who isn't outside enjoying the sun, heat, and many outdoor activities found throughout the state. Between Mount Rainier, Castle Rock, Olympic National Park, and the North Cascade National Park, there's always something to do and somewhere to relax throughout the summer in Washington.
With all of these outdoor activities comes the equipment and gear necessary to make these activities fun and memorable. At Daffodil Storage, we want to help you enjoy all the Pacific Northwest has to offer by providing helpful tips and tricks for storing outdoor gear. In this blog, we will walk you through general outdoor gear storage, including:
How to store a tent
Preparing your RV for storage
Storage for fishing gear
Storage for athletic equipment
Storing bikes and small vehicles
Climbing gear storage
For all the tools you need as well as the right storage unit for camping gear storage and other items, browse through our list of locations to find the Washington self storage you need to be successful and outdoorsy this summer.
Camping Gear Storage
Heading out to your favorite RV spots or campgrounds makes for some of the absolute best summer memories. Between sleeping beneath the stars, heading out to the lake to catch some fish, and sharing stories by the campfire, there is no shortage of fun each time you head out of town.
Before you can jet out of town for a weekend of camping, you need to grab all the proper gear from your storage unit. Increase the time you spend at your favorite campsite by following these tips for storing tents, RVs, and fishing gear.
How To Store a Tent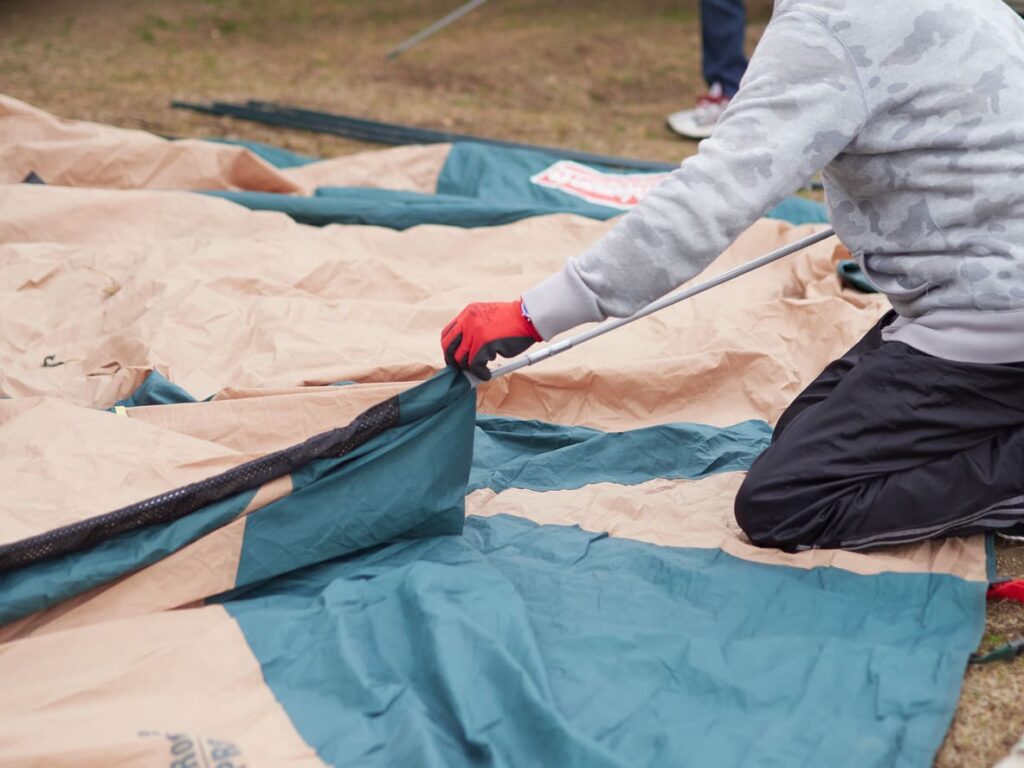 One of the most important pieces of equipment when it comes to fully enjoying your camping trip is a tent. Keeping your tents organized and clean while in storage can save you time when you set your tent up again.
Prior to putting your tent into storage, whether it's short-term or long-term storage, you need to make sure it is clean and completely dry before packing it away. Start by wiping your tent down with a rag, cold water, and a non-detergent soap to remove dirt or sand. You will also want to scrub the zippers to keep them running smoothly. Finally, rinse it completely and let it dry before placing it back in the bag to prevent mildew from forming.
While storing your tent compactly may be better for transportation purposes, it's best to keep them stored loosely to give the fabric a chance to breathe and to avoid damage to the rest of the tent equipment when storing long-term. It's best for poles to be stored partially assembled to take the tension off the cord. After finding the proper storage for your tents, keep each part of the tent in the same place and near the front of your unit for quick and easy access.
Preparing Your RV for Storage
If tent camping isn't your thing and you prefer the use of recreational vehicles instead, Daffodil Storage also provides a convenient place for RV storage at select facilities throughout Washington. However, prior to bringing your RV to one of our outdoor parking spots, you need to prepare it for storage no matter how long you will be keeping it with us.
If you are only storing your RV for a short period of time, all you need to do is clean the exterior and interior of your vehicle. Wash the outside of your RV with warm soapy water, making sure to scrub spots stained with mud and dirt. You will also need to clean the inside by wiping down counters, changing sheets, and taking out the trash to ensure it's ready to go when you need to get out of town next weekend.
For long-term RV storage, you should also pay attention to mechanical repairs and maintenance. Ensure that your oil has been changed, your engine's cooling system has been flushed, and everything is in working order. Be sure to remove any food that you might have stored in your RV that could attract pests, and make sure your extra supplies are tucked away in cabinets or storage bins. It is also wise to invest in a cover for your RV even if it is being stored indoors to prevent dust accumulation and damage from the weather.
Storage for Fishing Gear
Another activity to prepare for as you pack up your camping gear is fishing. With proper organization within your storage unit, you can easily grab all the fishing poles, tackle boxes, and other gear you need. When storing fishing rods, it's important to take them apart first, especially if you are storing them for a long period of time.
Remove the fishing line and reel from your rod and coil the line loosely. You may also want to inspect everything so you can address any damage and make sure everything is repaired in time for your next fishing trip. For your tackle box, make sure everything is in good condition and placed in the correct spot before closing it up and placing it in your Washington storage unit.
Outdoor Gear Storage
While camping is one activity that many participate in throughout the summer months, there are many other ways to enjoy the heat and sunshine of summer. From participating in athletic activities such as golf and softball to finding trails to bike on and mountains to climb, all your outdoor activities require equipment that needs to be stored properly.
Storage for Athletic Equipment
For golf clubs and metal bats, you will need to clean them and take care of any damage they may have sustained during their many uses. Once they are clean and completely dry, place them in a storage bag of some kind, whether that's a golf bag or your softball or baseball bag. Given that both types of athletic equipment are made of metal, you will need to rent a heated storage unit from Daffodil Storage to prevent them from rusting or incurring other types of temperature-related damage.
Storing Your Bike and Small Vehicles
With indoor storage units in a wide selection of sizes, Daffodil Storage can provide plenty of space for bikes and other small vehicles, including motorcycles, ATVs, and Jet Skis. Keep all these items clean and in working condition as you are placing them in vehicle storage for the long term.
When placing these items in your storage unit, make sure that bikes are being carefully stored and keep up with general mechanical maintenance for your small motorized vehicles. Don't forget to check the tire pressure of your bikes and vehicles prior to taking them out for the first time each summer to make sure they didn't lose too much air during the cold months.
Climbing Gear Storage
Washington is known for its many mountains, national parks, and hiking trails throughout the state. With all those mountains to climb, it helps to make sure you have the right equipment and proper climbing gear storage available to make it easier for you to reach new heights whenever you want to.
A general rule of thumb for storing climbing gear is to keep it clean and well-organized. Your equipment should also be kept in an area that is clean, dry, and away from direct sunlight. Storage units not only provide optimal conditions for your gear, but they can also help you keep everything all in one place.
In terms of organization, we recommend investing in bins or plastic containers to place your ropes, harnesses, and hooks in. We also suggest purchasing a freestanding shoe organizer for your climbing shoes to keep them paired up and off the ground.
Rent Storage for All Your Outdoor Items at Daffodil Storage Today
Now that you have the tips and tricks for proper outdoor gear storage, it's time to create the space all your outdoor items deserve at Daffodil Storage. We offer spacious storage units throughout many areas in Washington designed to handle all your belongings. Find the location closest to you and rent or reserve your Washington storage unit online today.
More From Daffodil Storage