Level Up Your Barbecue Game This Summer With Self Storage
As the summer settles in and outdoor activities become the norm, you may be dreaming of hosting the family or neighborhood barbecue. It is no simple task to assemble and create an atmosphere where everyone has a good time and the food is delicious. It takes thought, investment, space, and strategy to bring all the necessary components of a great cookout together.
If you are wanting a how-to cookout checklist, Daffodil Storage is providing you with tips on throwing the best barbecue bash of the year. When you need a hand creating an invitation list, drafting up your cookout shopping list, deciding what games to provide, figuring out how to get organized, or finding a place to move your out-of-season items, the team at Daffodil Storage has the storage space and answers for you.
Start Your Barbecue Plans by Getting Your Invite List Together
A great first step for your barbecue planning process is to create a full invite list. This way, you can nail down the full number of people you're planning on having at your barbecue. Make sure to think about how many your indoor and outdoor areas can comfortably host, then narrow down the dates to give people something to mark on their calendars.
When you start inviting people, begin with family and close friends. You want to be sure they can make it on the designated date and keep in the back of your mind possibly asking them to assist. Then consider those in your more distant social circle, like coworkers, friends of friends, and neighbors, as you develop your invite list. No matter who you decide to invite, getting a list together early will help you think about the food and activities all your guests will enjoy as you get your barbecue organized. You'll also want to think about any dietary restrictions your guests may have as you plan.
Make Your Cookout Checklist
The real heavy lifting happens when you put together your cookout checklist. This checklist includes essential items from food, grilling, and dining materials. If you're hosting your barbecue somewhere other than your house, make sure to also think about how you'll transport your supplies, and keep in mind that you may need to make multiple trips to get everything set up.
Here's an example cookout checklist to help you get started:
Grilling Supplies
Barbecue grill or smoker
Charcoal, propane, or wood pellets
Grilling utensils (tongs, spatula, grill brush, etc.)
Fire starter (matches, lighter fluid)
Food and Beverages
Meat (burgers, hot dogs, steaks, chicken, etc.)
Condiments (barbecue sauce, ketchup, mustard, mayonnaise)
Buns
Side dishes (salads, cole slaw, and mac and cheese)
Drinks (water, soda, lemonade, beer, wine)
Ice
Dining Materials
Tables and chairs
Tablecloths
Plates, cups, and utensils
Napkins
Garbage bags for cleanup
Get Ready for a Few Cookout Activities
To have a fun atmosphere and keep your guests entertained, you need to provide outdoor activities and other entertainment to maintain a good vibe. A music system or speakers can bring a party to life; the lack of it will let the silence sit. Having a good barbecue playlist while everyone is eating and enjoying themselves will keep the energy smooth.
While the music is playing and you're hosting, here's a list of good yard games to consider investing in:
Cornhole
Tug of War
Water balloon toss
Frisbee, football, sports equipment
Bocce Ball
Pick Up Some Cookout Decorations
Now that you have all the essential party elements, it's time to think of the non-essential touches. The decorations can bring a cohesive element that invites people to reflect positively on the barbecue and your organization skills. Getting matching cutlery, napkins, plates, and a tablecloth are the beginning elements while investing in a theme could level up the whole experience.
For example, if you pick a Hawaiian luau theme, getting tiki torches, exotic flower centerpieces, and leis is vital. A staple, regardless of theme or matching colors, is a welcome sign! Having a chalkboard or welcome sign to display a menu and greet guests is a gesture of warmth that a good host displays.
Start Your Cookout Prep
If the stress of how the details play out is preventing you from hosting a great barbecue, going over the specific elements will get you over the setup stage. Cookout preparations include making sure your space is clean and open and thinking about where you want to keep food and chairs before you start doing the heavy lifting. Be sure to prepare your grill or smoker ahead of time through maintenance. The day before the cookout, make sure to get food preparation started as much as possible. This can include marinating meat, preparing side dishes, ensuring you have enough dining and serving utensils, and grabbing your favorite drinks!
Dealing With the Aftermath: Cookout Cleanup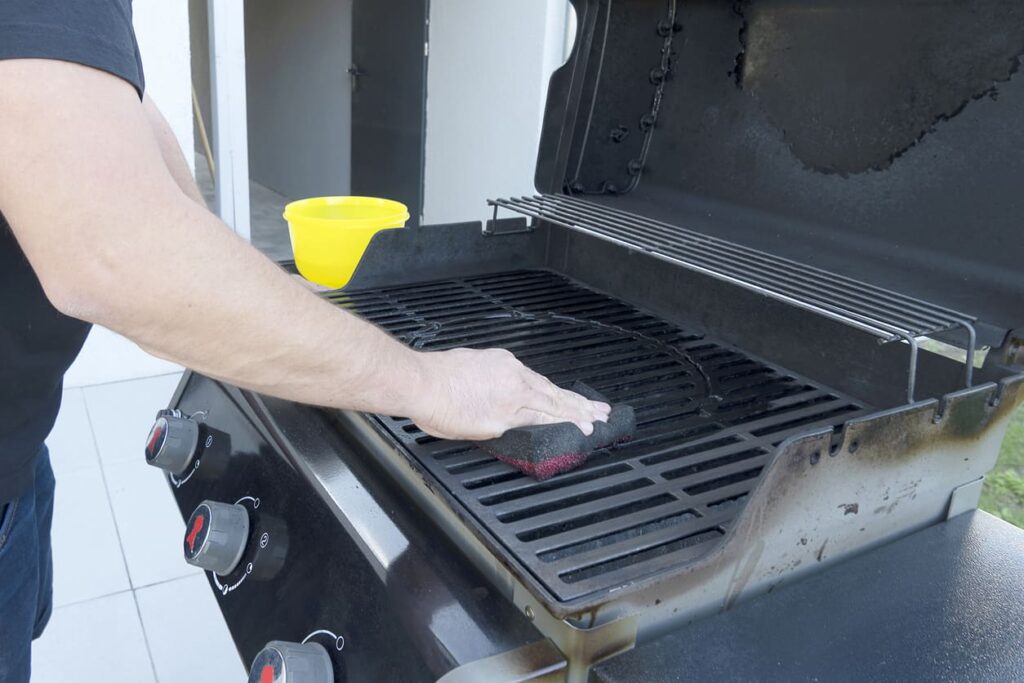 After the fun comes the dreaded cleanup. While dealing with the aftermath isn't the most fun part of a barbecue, it can be made easier when you go in with a plan. The first and easiest part is disposing of any leftover food properly, either by throwing it away, storing it in the fridge, or asking guests to take it home (that portion usually solves itself).
Once the food's out of the way, you'll want to clean up surfaces and tidy your space. Don't forget to clean the grill and cooking equipment during this process! Just be sure to have cleaning supplies ready to make this stage a little bit easier, and make sure you have trash bins or bags out to encourage your guests to throw away their own trash. After you've wiped everything down, put away any games or entertainment and pack up all decorations and outdoor furniture. Having a place in mind for these belongings to go after your party will help make that part of the cleanup that much simpler.
How Self Storage Can Help You Host the Best Neighborhood Barbecue
Remember to enjoy the process and have fun while organizing your barbecue. With proper planning, a thoughtful invite list, a well-equipped cookout checklist, engaging games, lively decorations, and efficient prep and cleaning, your barbecue bash is sure to be a hit this summer!
While planning your event, if you realize you need more space during prep or after you acquire more decorations and barbecue equipment, the Daffodil Storage team is here to provide you with the storage space you need to keep your hosting days smooth. We have a range of storage unit sizes so you can find one that fits just right. With a little extra room, you can store all your out-of-season items or pack up all your barbecue decorations and outdoor furniture with ease. Check out Daffodil Storage's locations near you today!
More From Daffodil Storage