Getting Great Golf Cart Storage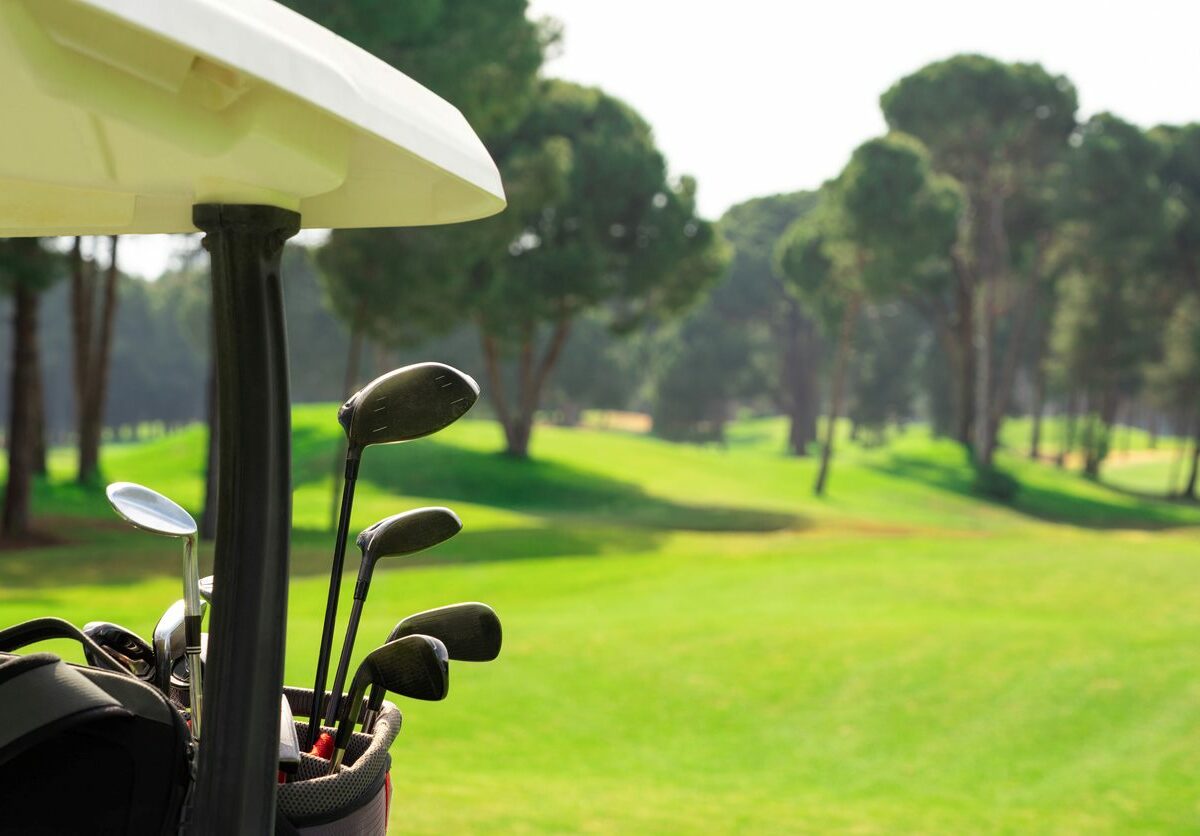 The harsh truth about golfing is that it's not something you can do year-round. At least, not for everyone. In most of the country, for most of the year, the green is not so green.
Have you ever tried golfing in the snow? It's technically possible, but we don't encourage it.
But when the leaves start falling and those cold fronts come in, it's not just your clubs that go into storage. If you have a golf cart, you need to swiftly find a long-term landing spot for it, before winter freezes you out.
This is not a new problem with Daffodil Storage, and fortunately we've had time to consider the ins and outs of golf cart storage—so you can save yourself the time. We're going to cover some of our best golf cart storage ideas, and direct you to some high-quality, affordable storage options that you can rely on when the temperature drops.
Set Your Golf Cart Up for Long-Term Health
Like any other vehicle, your golf cart will accrue wear-and-tear, especially if it's neglected over a long period of time. To prevent undue deterioration and cultivate longevity through your golf cart winter storage period, it's best to put the cart away, the right way.
That means it's time for some good, old-fashioned maintenance!
Cleaning and Prepping Your Golf Cart for Storage
From top to bottom to every tire in-between, leave no corner of your golf cart unwashed! Any residual dirt, grime, grass stains, or other marks will only be more difficult (if not impossible) to remove the longer they are left unattended. Besides, it's worth cleaning your cart just because a shiny, fresh cart feels so refreshing.
Make sure not to neglect the little things. Remove any debris that has fallen behind/between the seats, clean out the dirt from behind the gas pedal, and brush out the grass clippings from the glove compartment. Check for any loose or damaged elements that may need repair before storage, and inflate the tires to the recommended pressure to prevent flat spots during storage.
There's no buzzkill as bad as pulling your golf cart out of storage and immediately needing new tires.
Show the Battery Some Love
This might seem silly because you won't be using it for a while, but one of our most underutilized golf cart storage ideas is that we make sure the battery is fully charged before storing. Trust us, it is vital to the long-term health of the battery—your vehicle's heart.
Disconnect the battery cables to prevent any electrical drain during storage. Because they will slowly leak all the power in your battery. If you thought the risk of having flat tires was bad, imagine coming back to your golf cart storage to a dead battery!
Consider using a battery maintainer or trickle charger to optimize your battery's charge level, and make sure your battery is stored in a cool, dry place that is free of extreme temperatures. If you don't have somewhere capable of this, a heated self storage unit is your best bet.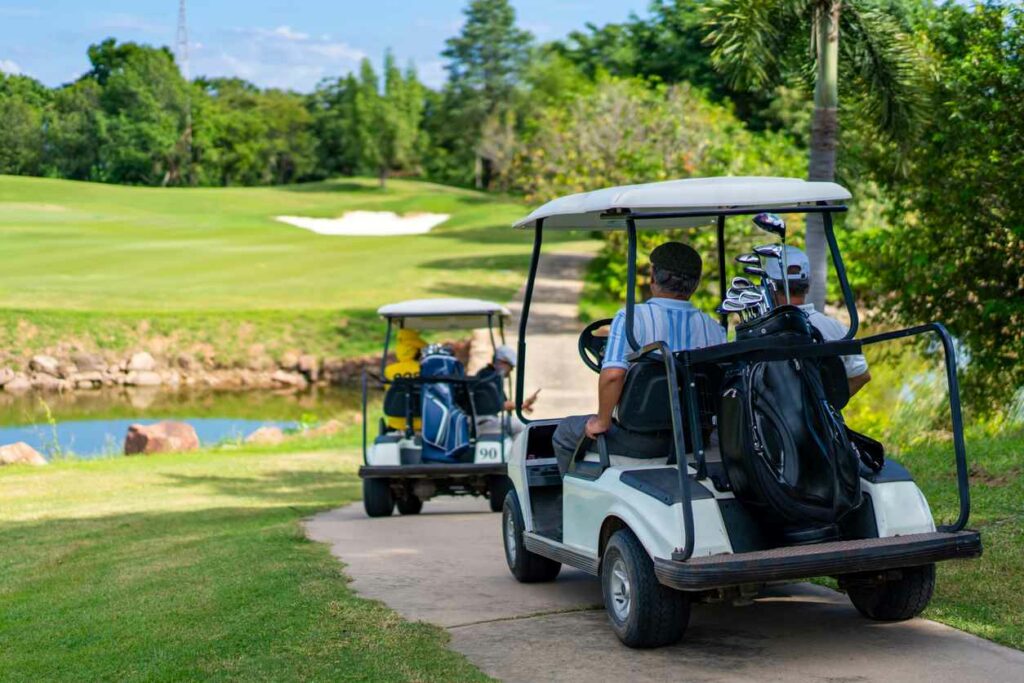 The Ideal Shelter for Golf Cart Winter Storage
Speaking of golf cart self-storage…like with the batteries, make sure your cart is also in a dry, well-ventilated area to prevent moisture accumulation and minimal exposure to harsh weather conditions. If you take anything away from our article, it's this: even as an absolute first-timer to self storage, if you house your golf cart in a self storage unit, you're putting your best foot forward.
If outdoor storage is necessary, employ the use of a golf cart cover to shield against the elements. This should be considered as a last resort.
Conduct Regular Maintenance Check-Ups
Our final golf cart storage idea is a simple, but essential one: after all is done and you've properly equipped your vehicle to survive for several months on its own, find some time in your schedule to conduct some brief, but routine maintenance checks. Even if you don't expect it to go anywhere, you never know what might happen. Inspect the brakes, suspension, and other mechanical components for any signs of deterioration. You might realize that in your cleaning and maintenance checklist, you forgot something! Now is your chance to address any issues to prevent them from worsening through the duration of your storage term.
Consider scheduling a professional maintenance service before taking the golf cart out of storage, as well. If you're confident in your ability to clean, operate, and maintain the vehicle, then that's fine. If you've never done this before though, it may be prudent to rely on expert care. Anything to reduce harm to yourself, others, or your golf cart, right?
Find Golf Cart Storage That Fits Like a Glove
We at Daffodil Storage hope you've gleaned some valuable takeaways or insights from our list—it was made with years of experience in vehicle storage in mind. Ultimately, the more care you give your golf cart before storage, the more money (and frustration) you save yourself in the long run.
But say you know what to do, you are confident in your ability to take care of your cart, but you don't have that perfect place to put it. The garage is full and the shed out back isn't really up to snuff, as it were.
Daffodil believes we have an elegant solution. Remember when we mentioned that heated golf cart storage option earlier? It's often not enough to just put up some walls around your cart—you need a space designed to protect it.
That's what heated storage is, and we have it.
There's nothing more invaluable to your preservation efforts as a space that helps you win. Because all of the cleaning and battery-babysitting in the world isn't going to protect your golf cart in the middle of a blizzard. With a Daffodil self storage unit, those problems disappear, and that's what we want to offer you.
If you have any questions about our policies, procedures, or locations, check out our frequently asked questions. We look forward to helping you do right by your golf cart this Fall and Winter season!
More From Daffodil Storage