7 Space-Saving Storage Ideas for Studio and Small Apartments
Whether you've just moved into your first apartment or dorm room or are just relocating to a new place, you're probably pretty stoked to start decorating the place and make it your own—once the heavy lifting is over, at least. However, if you haven't already, you'll soon realize that your new apartment or dorm room isn't all that roomy and you can't possibly fill it with all the furniture a house can hold. Fortunately, there are ways that you can make the small living space feel larger than it is with storage and organization, including cleverly stashing extras under your bed, grabbing storage cubbies, getting foldable furniture, and more!
Not sure if there are enough storage hacks in the world to get your space under control, or just need an easy space solution in the meantime? Daffodil Storage has your back when you need more storage space. Just find a self storage facility near you and rent or reserve a storage unit online to get started.
Storage Ideas for Apartments and Dorms
Finding an adequate small apartment or student dorm room storage solution can be difficult. With such a limited space to place items, living in tight quarters can create frustration and leave your space looking haphazard. Colleges may also have strict rules about what you can bring into the dorm, and limited space means you have to keep the footprint of everything, even your organizational furniture, small. Here are a few college dorm and small apartment storage ideas that utilize the things that are already there without adding a bunch of extras.
Use a Dual-Purpose Bed To Save Space
If you have or are up to purchasing a bed frame that has drawers built into it, you can use that under-bed space for storage. You can also purchase a Murphy bed or a bed that pulls out of your sofa to save a bit of room. Beds that can have multiple purposes or fold out of sight are excellent space savers in a small home.
You can also build your own storage space into a bed. By DIY-ing your own bed frame or bed storage, you get to decide what dimensions to give it and what will best suit your needs. While this can be a rather difficult undertaking, those who have experience in carpentry may enjoy the challenge.
Purchasing an under-bed storage container, such as a plastic tub that can slide under a lifted bed, can also help with small and studio apartment organization and storage. Clothing, towels, or any other type of bulky material can be placed into them and flattened to save closet or dresser space, for example.
Storage Cubbies Can Help You Look and Stay Organized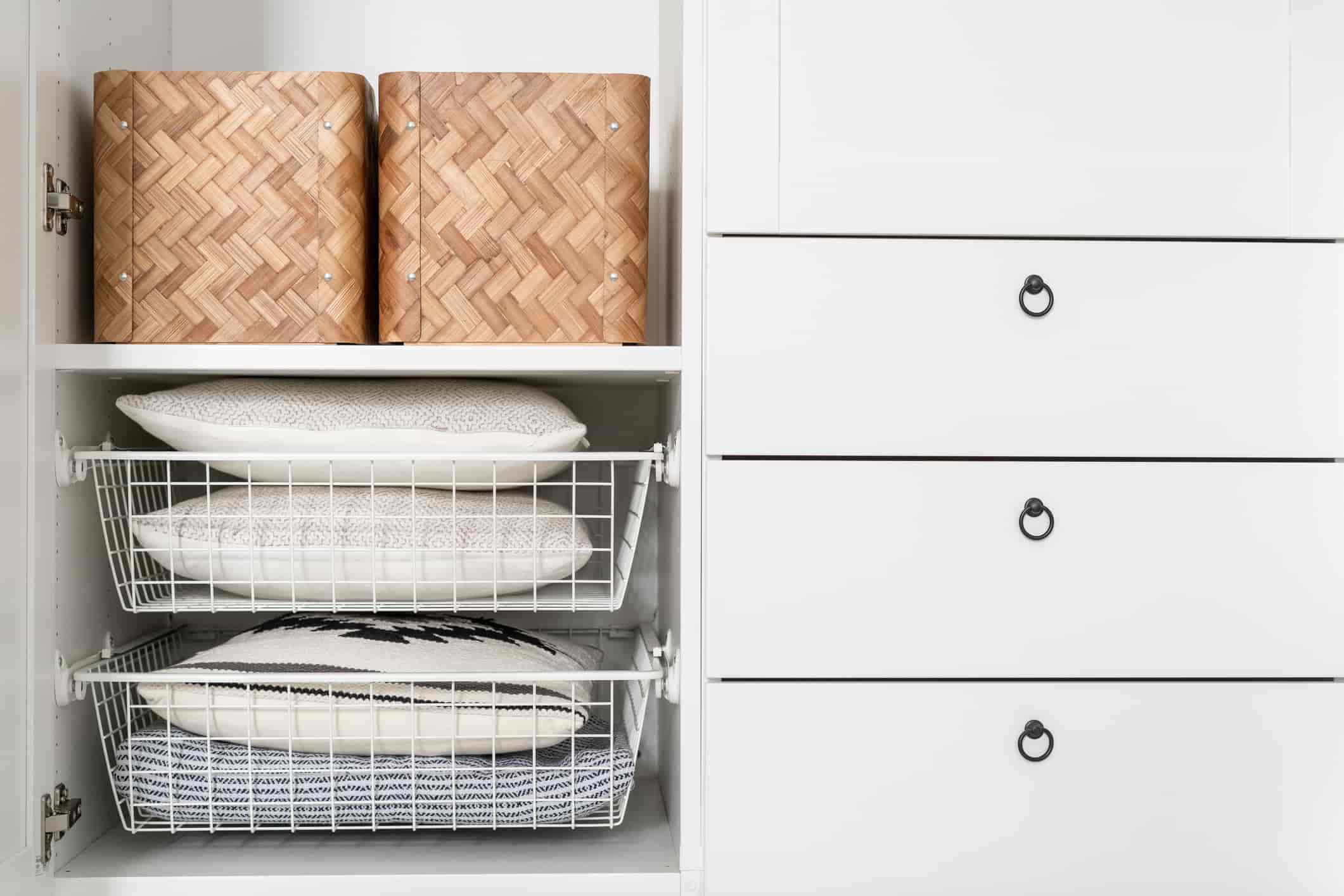 Sometimes, apartments and dorms have their own built-in shelving, and you might have at least a few cabinets, shelves, or bookshelves in your small apartment (and if not, they are easy to install or buy). With these, you can buy baskets or cloth cubbies and fill them to the brim with items that you need. The storage cubbies keep them looking organized, even if items are actually thrown in haphazardly.
These cubbies also make great storage containers to place under a coffee table or side table in a living room. Again, you can fill them all the way up with games or items you need and they will look organized to an outsider's eye. Using baskets or cubbies is one of our favorite storage ideas for apartments. They're typically affordable to purchase, can be found in a range of styles and serve as decoration, and can help you keep your space looking organized.
Utilize Dresser and Drawer Organization
When it comes to capitalizing on the space you have in a dresser, it is better to roll clothing up instead of folding it traditionally. You may even find that by doing this you have enough room in your dresser to be able to add a section for a jewelry box, toiletries, or even the towels you need, too. College students could even keep their books and notebooks in there for class. The possibilities are endless.
Another way to save space is by purchasing or making drawer dividers. You could make a floating piece that can be moved back and forth to capitalize on the often unused upper portion of bedside table drawers or even desk and kitchen drawers. Simple dividers can also keep items in a stack from falling down and rolling around in your drawers, saving you the frustration of digging through your jumbled items.
Other Organization Ideas for Small Apartments
While colleges may have relatively strict furniture rules, apartments are likely more lenient and some probably don't have any rules for what you can and cannot do. Here are some additional storage ideas for your studio or small apartment.
Put Foldable and Movable Furniture to Use
As stated above, Murphy and sofa beds are great because you can fold them up when they aren't being used. They are not the only kinds of foldable or movable furniture, though. In your kitchen, you could install a foldout table, or just use a foldable one that you place against the wall when you aren't using it. This creates room to openly move around. You can also add a rolling island or table to use in multiple places throughout your apartment.
Use Your Wall Space With Vertical Space Fillers
Shelves are the best way to create additional storage space in an apartment. They are often high enough that they won't interfere with anything that you will be doing on a day-to-day basis, but they will free up drawers, cupboards, and cabinets for things that cannot be placed on shelves. Just be sure to place commonly used items within reach and no higher than your eye level to allow for easy access.
Hooks are also great space savers in cupboards and around your apartment. With so many companies making removable hooks, you can place them almost anywhere your heart desires without having to stress about losing your rental deposit. Put them along walls, inside cabinets, and on the underside of cupboards to free up other storage space.
Try Out Standing Shelving for Organization
There are numerous minimalist standing shelves you can buy to serve multiple purposes without overwhelming your space. You could also make them yourself. If you have a rather open floor plan in your apartment, standing shelving can help serve as a room divider as well. A large bookcase, or even a simple ladder shelf, could hold all sorts of knickknacks or framed photos of your loved ones.
Create Decorative Space With Tables, Ottomans, and Baskets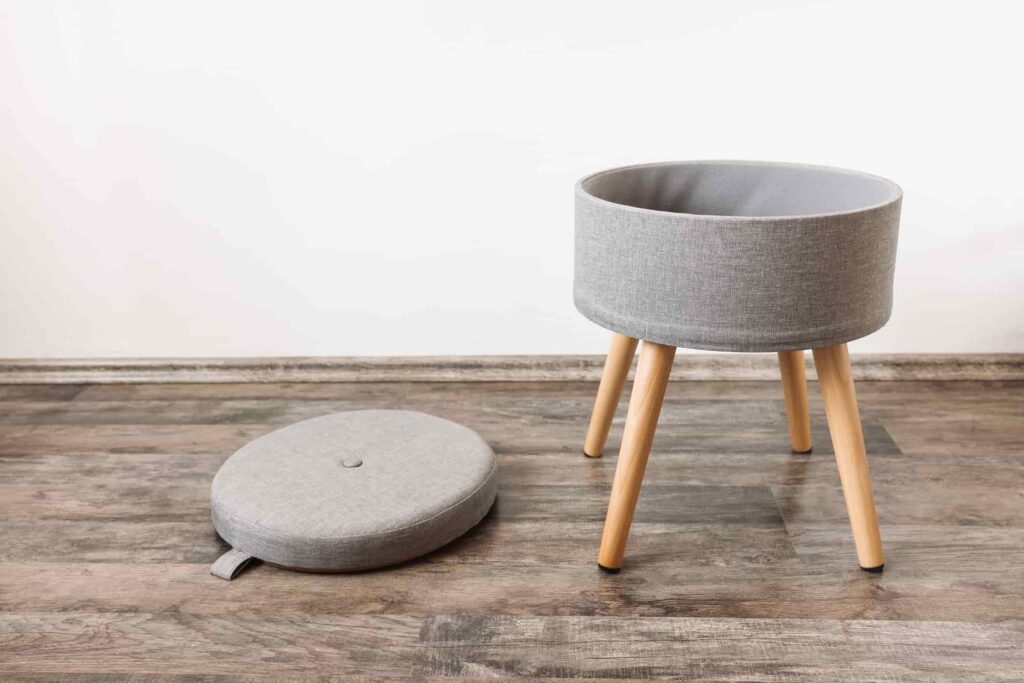 Many side or end tables come with built-in drawers or shelving where you can keep books, plants, or any number of things without them looking out of place. Large decorative baskets can also help you add functional space. Similarly, many ottomans have compartments for storing items like blankets or pillows. With these furniture items, you can accent your space with the colors and styles you love while also getting some more space. Tables, ottomans, and baskets with storage space can be a big win for those looking forward to getting organized and styling their new place all at once.
Find Even More Room for Your Belongings With Daffodil Storage
With these storage ideas for small apartments, studio apartments, and even college dorms, you can keep your small living space organized. Many of these small apartment storage ideas allow you to put your own creative and personal spin on them as well and can be perfect as you move into a new space or decorate.
At the end of the day, though, sometimes you just need more square footage. If you've already tried these storage ideas for apartments and still need storage space during your move, Daffodil Storage has a solution for you. Just find a self storage location near you to get started. We proudly serve the South Sound area of Washington State, and our helpful team is here to help make your storage experience the best it can be, whether you're a first-time storage renter or practically a self storage pro!
More From Daffodil Storage